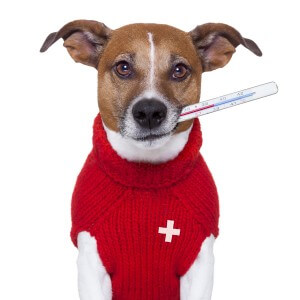 If Your Pet Is Injured, Don't Wait! Call Us Right Away!
In the event that your pet experiences an illness or an injury, please call our office at 410-657-8024 and our helpful receptionists will schedule an appointment that meets your needs. Please bring any previous records or laboratory results, and any fecal or urine samples that may be appropriate. Sometimes a picture or short video can be helpful.
What Happens During An Emergency Appointment?
A complete history will be collected including past and present medical, surgical, dental, behavioral, or nutritional concerns. A comprehensive physical exam will be performed. The temperature, pulse, respiration, weight, body condition score, dental score, and any abnormalities will be recorded.
Additional laboratory testing, blood work, fecal testing, urinalysis, radiographs, ultrasound, or medical services may be recommended and completed quickly in-house. The diagnostic tests will be evaluated and a diagnosis and treatment plan will be discussed.
What Happens If My Pet Is Seriously Injured Or Sick?
Your pet may require hospitalization in our intensive care unit. Constant supervision and monitoring are provided for all medical and surgical patients. Owners are encouraged to call and visit.
It is our goal to provide an accurate diagnosis, to begin medical or surgical treatment efficiently and compassionately, to communicate effectively, to deliver state-of-the-art veterinary medicine that is both personable and reliable.
Emergency vet services are a fundamental cornerstone of our commitment to comprehensive pet care. Accidents do happen, and when disaster strikes, that is when you need a trained veterinary staff ready and able to help. 
Our full service facility is located at:
4866 Montgomery Road
Ellicott City MD, 21043
(410) 657-8024
Our veterinary hospital is staffed by members of our veterinary team and are trained in emergency, trauma-based and critical care protocols.
The emergency vet team at Countryside Veterinary Clinic is near to you, here for you, and ready to help you and your pet in any way we can when you need us.
After Hour Emergency Veterinary Services
If your pet has an emergency after hours, please contact the Emergency Animal Hospital located at 10270 Baltimore National Pike (Route 40) at (410) 750-1177 or the Emergency Veterinary Clinic in Catonsville (Melllor Avenue) at (410) 788-7040.
We Are Always Ready For Emergency Care
Our facility is staffed and equipped to respond to any medical or surgical need. From simple as a bee sting to severe trauma, our staff is prepared to care for your pet and help you through a stressful time.
We strive to provide our patients' human companions with prompt, attentive, compassionate and personal service from the very first moment a patient arrives. 
We are Prepared For Any Critical Situation, Such As:
Traumatic injuries - fractures, bites, burns, lacerations
Automobile accidents
Respiratory emergencies, choking, breathing problems
Vomiting, diarrhea
Difficulty urinating or defecating
Shock or loss of consciousness
Seizures
Toxic reactions, poison ingestion
Labor and pregnancy problems
Blood in urine or feces
Heatstroke
Postoperative or post-anesthetic problems
Pain management
Inability or unwillingness to eat
and more...